Selling on Amazon FBA is a way to upsell your products and make more money. And two of the best tools to help you take full advantage of this opportunity are Jungle Scout vs Helium 10.
There has been a rising comparison between these two fantastic Amazon tools by users. And so, after extensive research and testing, I have created this detailed, unbiased analysis of both tools.
By the end of this article, you will have all the insights you need to choose the best tools for your Amazon FBA selling journey.
Helium 10 – Overview
Helium 10 is a one-does-all suite of tools built purposefully for Amazon sellers. It contains a wide variety of amazing tools focused on helping you succeed as an Amazon FBA seller.
It contains all the things you need to scale your Amazon business to the next level. From "get your feet wet" tools like the keyword research tool to more complex ones like the competitor analysis tool.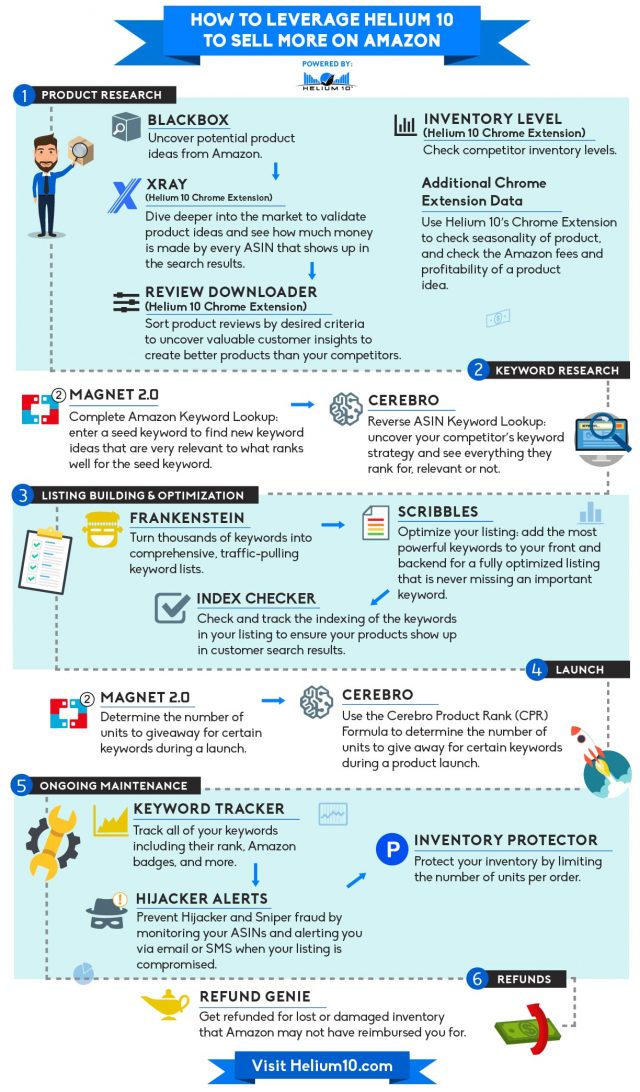 Many veteran Amazon sellers consider the Helium 10 the only tools you will ever need as an Amazon seller. It started initially with ten tools, but today, with recent improvements in technology, it has incorporated more in-demand tools like the PPC tool.
Helium 10 – Key Features
Easy to manage keyword research tool
The Black Box for finding high demand and low competition products
Search optimization for indexed listings
Seamless and strategic product launch
Analysis keywords to find the ones with the highest revenue potential
Competitor analysis for better market positioning
A refund strategy that helps you cut loses
Pros
Free chrome extension for easy access
Free 30-day trial period for all premium plans
An all-in-one marketing tool with a success guarantee on Amazon
Learning resources for quick onboarding
Cons
A little expensive for new sellers
The time-consuming learning process to master the use of tools
Jungle Scout – Overview
Do you want to get started with Amazon selling without first dedicating so much time to learning how to use the tools? Then, jungle Scout fits in properly. It offers the various tools you need for product analysis, keywords and trend research, competitor research, and review insights.

Though it does not have as many tools as the Helium 10 suite, Jungle Scout is way more intuitive and beginner-friendly. And it keeps rising in popularity and adoption not only among Amazon sellers but also among affiliate marketers.
Furthermore, unlike Helium 10, Jungle Scout comes in two distinct formats – the web App and the chrome extension.
Jungle Scout – Key features
Product comparison by ranking for winning product choice
In-depth product analysis, including prices, sales trends, reviews, etc
Relevant keyword research for most ranking ones
Right SEO optimization through relevancy rating
Helps your hunt into different niches to choose the most profitable one
Pros
Full features at lower prices
User friendly and very easy to get started
Tools offer more accuracy than their helium ten counterparts
In-depth keywords research for any product
Competitor comparison
Provides historical sales data of products
Cons
Unlike Helium 10, it doesn't have a free extension
Fewer features
No mobile App
Helium 10 VS Jungle Scout (Special Features)
Both Helium 10 and Jungle Scout have a lot of tools, though with different names, but serve similar functions. For instance;
The Black Box in Helium 10 and Product Database in Jungle Scout provide you with product research. In addition, both systems offer chrome extension and help you with keyword and competitor research.
I won't bore you with the unnecessary comparisons of each tool side by side. So, I have decided to compare some of the unique features of both Helium 10 and jungle Scout.
Helium 10 Special Features
The following tools are peculiar to Helium 10 Suite.
Refund Genie
This is an invaluable tool for all Amazon sellers. As a seller, getting refunds on Amazon can be very complicated and time-consuming. This tool guides you through getting a refund of losses, especially for damaged products.
Competitor Keyword Spy
Helium 10 not only helps you with keyword research but also helps you spy on your competitors' full SEO strategy to draw insights into improving your product. In addition, it gives you information about where you stand among your competitors.
Jungle Scout Special Features
So, like the Helium 10 Suite, Jungle Scout also has cool, unique features.
Supplier Database
One way to stand out selling on Amazon is to know what the big unicorns are doing correctly. This is what you get with this feature – insight into the top-ranking verified sellers in your niche. In addition, you get notified about every tweaking or polishing they do on their page.
Giveaway Feature
This feature helps you with regular updates on new sales or offer ideas. It can get you to your sales objectives much more quickly.
Helium 10 vs Jungle Scout (Accuracy)
Both Helium 10 and Jungle Scout analyze available data to give you the needed insights and patterns. Let's see how they compare in terms of the accuracy of predictions.
Helium 10 Accuracy
On average, Helium 10 has a prediction accuracy of 75%, with a range between 70 and 80%. To further explain this:
There is an 8% chance of product failure with Helium 10
8% chance of selling only half of the product sales amount predicted by the Suite.
And an 8% chance of only selling ⅓ of the predicted amount.
However, these are not hard lines, as they could be better or worse, depending on how well you utilize the tools.
Jungle Scout Accuracy
On the other hand, Jungle Scout has a slightly higher prediction accuracy, which is between 80 and 85%. This is possibly due to its less complex nature. On a deeper look, let's see what the percentage accuracy means for you if you opt for Jungle Scout;
There is about a 5% possibility of product failure
There is a 5% chance that you will only sell half of the predicted sales amount
And 5% chance of only selling ⅓ of the predicted amount
Helium 10 vs Jungle Scout (Ease of use)
As a beginner seller on Amazon, you definitely want a tool that will be easy to jump on without much learning. On the other hand, tools with complicated user interfaces can be very frustrating and discouraging. So in this comparison, you will know which one is easier to use for starters.
Helium 10 – Ease of use
Helium 10 may look a bit overwhelming for a new user. But, it is actually very straightforward to use. The interface comes with various filters to help you navigate to wherever you want easily.
Jungle Scout – Ease of use
Jungle scout looks to be even more user-friendly, especially for newbies. You have everything staring right at you on the dashboard. To carry out product research and other functions, just include the necessary filters and Bob's your uncle.
Helium 10 vs Jungle Scout (Customer Support)
Sooner or later in your Amazon selling career, you might run into some issues that will require assistance from the customer support service of whichever tool you are using. You don't want to use a tool that has non-existent customer service. So, I decided to include this comparison in this review as well.
Helium 10 – Customer Support
Well, nothing much to say rather than; you will get your response quicker than you expected whenever you contact Helium 10's customer support service for help. They are very responsive and 24/7 on the ground to assist you.
Jungle Scout – Customer Support
There is really no debate here, as Jungle Scout has a customer support service just as swift and helpful as Helium 10.
Helium 10 vs Jungle Scout: Which One Has the Best Tools?
Helium 10 and Jungle Scout both offer a robust tool in a single platform. Below we have given a tool comparison chart of both Helium 10 and Jungle Scout.
| | | |
| --- | --- | --- |
| Tool | Helium 10 | Jungle Scout |
| Product Research Tool | ✅ | ✅ |
| Product Tracker | ✅ | ✅ |
| Keyword Tracker | ✅ | ✅ |
| Niche Finder | ✅ | ✅ |
| Supplier Database | ❌ | ✅ |
| Listing Builder | ✅ | ✅ |
| Reverse ASIN Tool | ✅ | ✅ |
| Refund Tool | ✅ | ❌ |
| Inventory Protector | ✅ | ✅ |
| PPC Tool | ✅ | ❌ |
| Split Testing Tool | ❌ | ❌ |
| Product Trend Checker | ✅ | ❌ |
| Product Launch Service | ❌ | ✅ |
| Hijacker Alert | ✅ | ❌ |
| Profit Calculator | ✅ | ✅ |
| Email Follow Up | ✅ | ✅ |
| Freelancer Marketplace | ❌ | ✅ |
Helium 10 vs Jungle Scout (Pricing)
Both Helium 10 and Jungle Scout have different pricing plans designed to meet different selling needs. But I have created a simple comparison of their plans and pricing options for you to decide which one is more reasonable. Let's go!
Helium 10 – Pricing
Helium 10 offers four different pricing packages to meet sellers' various needs.
The Starter Plan: This is the most basic package for you if you are just trying to get your feet wet in Amazon FBA. It goes for $39 per month and is packed with user onboarding packages. In addition, you can take advantage of starters packages like the Helium 10's X-ray and other training materials like the Freedom Ticket to get started quickly.
The Platinum Plan: You can start your Amazon FBA selling with this plan. It costs $99 per month. It is also very basic and beginner-friendly. However, it contains essential features like keyword tracker, index checker, ASIN alerts, and follow-up emails function.
The Diamond Plan: This plan goes for $249 per month. It combines all the features in the Platinum plan with other capabilities like the multi-user login feature, which can hold up to four seller accounts, inventory management, and other cool features. If your goal is to expand your FBA business, this is probably the best plan for Helium 10.
The Elite Plan: This plan costs $399 per month. It has all the features mentioned in the Diamond plan, live seminars and training with experts, and many more amazing features. This is not a beginner plan. It's best for you if you are already an experienced Amazon seller but want to further increase your sales.
Jungle Scout – Pricing
Jungle Scout, on the other hand, offers three different pricing plans.
The Basic Plan: This package goes for $49 per month, and it is very suitable for newbie Amazon sellers. It offers you a single-user login and chrome extensions.
The Suite Plan: The Jungle Scout suite plan is similar to the Helium 10 Diamond plan in that it works well for sellers who want to expand their business. It costs $69 per month and combines all the features in the basic plan with extra advanced features like multiple logins, historical analysis, and lots more.
The Professional Plan: This plan costs $129 per month and is the perfect plan for veteran Amazon sellers who want to explore new opportunities to scale up sales. It has all the suite plan features plus other premium features like two years of statistical data, six user logins, and a 1000 ASINs tracker. 
Helium 10 vs Jungle Scout: Which One To Choose? 
It might be noticeable that both Helium 10 and Jungle Scout are the most powerful Amazon seller tool. While Jungle Scout leads in some aspects whereas Helium 10 beats in some aspects.
Function wise there is no competition for Helium 10. There is no particular aspect that Helium 10 covers for doing Amazon business. Helium 10 offers too many advanced and robust features, so in terms of features, Helium 10 is the best.
If you want to get the best insight into keyword tracking, product research, and many more then no one can beat Jungle Scout. So in research, accuracy, and simplicity, Jungle Scout is much better than Helium 10.
My Expert Recommendation
Both tools have most of their features in common and are very useful for Amazon FBA sellers. Of course, this is a completely unbiased review, so I will only give you my expert recommendation here. If you are already an experienced Amazon seller, you probably wouldn't have issues choosing which tools to use. But for those just starting, you might want to consider a few factors like cost and user-friendliness before making a choice.
Related Read:
Final Thoughts: Helium 10 vs Jungle Scout (2023)
Do you want to start selling on Amazon FBA and make it really big? you need Helium 10 or Jungle Scout. Both tools have beginner-friendly plans to get you started seamlessly.
However, Helium 10 has a few more features than Jungle Scout. While on the other hand, Jungle Scout is favored by Amazon newbies due to its simple user interface and functionalities.