Are you having doubts about getting started with Jungle Scout? You must be looking for an in-depth Jungle Scout review. If you are, your quest ends here.
Jungle Scout is probably the biggest game-changer for Amazon sellers. After using the Jungle Scout tools, sellers generate three times more revenue than other top sellers. But is it worth investing? Don't worry, you will figure it out soon after reading this article.
I have featured an up-to-date Jungle Scout review in this post—breaking down all the features, tools, and essential aspects regarding selling on Amazon. I have also included information about browser extensions, pricing plans, pros & cons, etc., for more detailed insights.
Quick Verdict: Jungle Scout Review
| | |
| --- | --- |
| Price | Its pricing is a little bit high but its service and functionality make it worth every single penny. |
| Features | It offers very advanced and robust features that boost your Amazon business to the next level. |
| User Interface | Easy and crisp to navigate. All its features are easy to retrieve and neatly stacked. |
| Accuracy | Jungle Scout offers the most accurate and reliable data with 85% of accuracy. |
| Support | It has 24*7 dedicated customer support. |
Without further ado, let's get started.
Jungle Scout Review: Overview
Jungle Scout is a popular all-in-one platform for selling on Amazon. At the start, it was just a keyword and product research tool, but within a few years, it has grown into a complete tool-suite for Amazon sellers. Currently, it is a feasible option for beginners, intermediates, and professional sellers.
With Jungle Scout, you can start from scratch. You can use it to find profitable products, high-volume keywords, key sales metrics, data points, and many more that will help you launch your first product on your Amazon store. Once you start getting sales, you can spy on your competitors to stay ahead in the competition.
Jungle Scout is a beginner-friendly platform. You can access all the tools right from the dashboard or use the browser extension to extract all the key metrics from the Amazon product page. Let's see how it helps Amazon sellers.
How Jungle Scout helps sellers?
Amazon is a massive marketplace with millions of sellers around the world. Let alone more than 1 million sellers joined the Amazon marketplace last year. You can imagine the heat of the competition that is happening in such a crowd. If you're a beginner, you might face situations like quitting or leaving in the middle of the competition.
Here Jungle Scout platform comes into play as your helping hand. As a complete tool-suite for Amazon sellers, Jungle Scout does more than 80% of the hard job for them. Whether it's about finding your first product for selling or snowballing your sales at your peak time, Jungle Scout finds you all the solutions for any type of seller.
Let's see what Jungle Scout does for sellers.
Finds niche product ideas and profitable products for selling
Helps you find trusted suppliers and drop shippers
Helps you in keyword research for product listings and rankings
Analyzes profits, inventory, and sales in real-time
Alerts you with instant notifications if something happens
Offers you exclusive training
Jungle Scout's interface and dashboard are very intuitive. It is designed to be used by any type of seller without any additional help.
Data Accuracy of Jungle Scout
"Data Accuracy" is the first thing that comes to a seller's mind while choosing a platform like this.
Well, Jungle Scout is really serious on this topic. With an accuracy of 84.1%, Jungle Scout tops the list compared with other platforms.
Jungle Scout Key Features
Here I'm going to break down all the Jungle Scout features.
Product Database
Jungle Scout has a huge database of 475 million products. In the Product Database section, you can find a potential product(s) for your Amazon store in your preferred marketplace.
To find a profitable product for your niche, first, you can select multiple categories and the product type. Then, you can use Jungle Scout's advanced filters to find a low-risk and highly profitable product. You can do product research for FBA, FBM, and Amazon sellers.
Opportunity Finder (Niche Hunter)
Opportunity Finder is a unique Jungle Scout tool that finds promising niches with just one keyword. To find the best niche ideas, you can enter high or low-demand keywords in a particular category. You can also use advanced filters to set your preferences.
The Opportunity Finder shows niches in a graphic metric. It defined when a specific niche was getting seasonal and trending spikes on the graphs. You can also identify the top 25 products in each niche in the search results. You can add potential product(s) to your list.
Product Tracker
As the name implies, The Product Tracker helps you track the performance of products. You can track a product's performance by its ASIN or URL. You can add up to 10 products' ASINs or URLs at the same time to identify feasible sales opportunities in a specific marketplace.
You can also add and organize those products to your list so you can compare the key metrics to find the most profitable product to sell on Amazon.
Supplier Database
Supplier Database is a proprietary tool of Jungle Scout that you won't find anywhere else. The tool helps sellers find the verified global suppliers recommended by the world's top brands. Once you find a winning product for your business, you can use its ASIN to search the list of sellers.
You can use the Match Score metrics to identify the best supplier to source your product. However, you can also find sellers by their exact names, company, or brand name. You can also use this tool later to track all your suppliers in one place.
Category Trends
Category Trends is an exceptional product research feature that helps you track trending products in a specific category. Instead of searching for products based on recent performance, it finds products based on historical data.
You can also discover the monthly ranking of the featured products in the search results. Add them to your list to compare which of them are gaining or losing momentum in trending graphs.
Keyword Scout
Keyword Scout is Jungle Scout's keyword research tool that lets sellers discover high-volume keywords for product listings. All you need is a seed keyword or ASIN(s) to scrape the traffic-stuffed keywords from Amazon. Each keyword shows relatable metrics such as search volumes, reverse ASIN lookup, competitive intelligence, and so on. Use the advanced filters to narrow down the keyword results.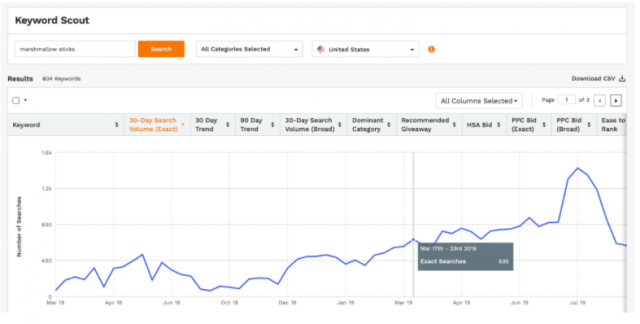 You can also use the reverse ASIN lookup method to find your competitors' ASINs. It allows you to discover the actual PPC keywords that are generating sales. Finding the juicy keywords of competitors helps you in your own keyword bidding for your PPC campaigns.
Rank Tracker
Rank Tracker is one of the analytics tools of Jungle Scout. With the help of this tool, you can monitor your keyword rankings in real-time. You can use one or multiple keywords at the same time to check the fluctuation of rankings in a graph.
Use the reverse search method of ASINs to check the historical performance of the keywords and find out which keywords are impacting your product listings. You can also compare the historical rankings of your keywords with your competitors' keyword performance.
Listing Builder
Once you find profitable products and high-volume keywords, it is time to create an effective product listing. Jungle Scout's Listing Builder tool uses the keywords you have added to your list to create product listings.
To create a data-driven product listing, you can add measures such as title, description, keywords, features, images, and so on. Connect your Seller Central account to test and optimize your listing. Get direct notifications to your account if any changes are needed.
Review Automation
Review Automation is an Amazon ToS-approved Jungle Scout tool that automates the review request process of your Seller Central account. With this tool, you can get more customer reviews and save time from manual work. Filter out your best reviews to feature on the top.
Sales Analytics
The Sales Analytics tools help you track and organize all your product sales in real-time. See your company's financial status by creating a professional profit and loss statement. Save your time doing the manual work and focus more on cost-reduction strategies.
The tool analyzes vital metrics such as revenues, operating expenses, prices of sold items, and hidden costs. View the historical stats of your sales and financial status so you can control your spending and make more profits.
Inventory Manager
The Inventory Manager provides you real-time status of your Amazon inventory. The tool forecasts precisely how much stock you must order to keep your inventory balanced. The accurate data prediction keeps your inventory from being oversold or out of stock.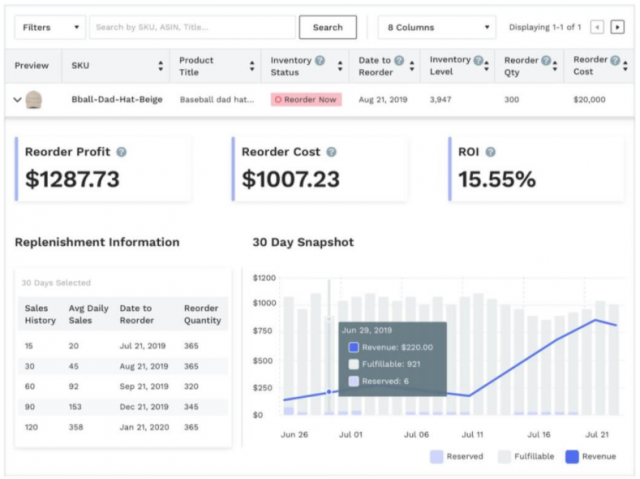 The tool notifies with a given date and specific quantity for purchase so you can avoid overstock and additional storage fees.
Alerts
Alert is an amazing feature of Jungle Scout and plays a vital role in keeping you ahead in the competition. It constantly keeps you informed about significant product changes, such as prices, titles, categories, images, etc., so you can take quick actions if it is necessary.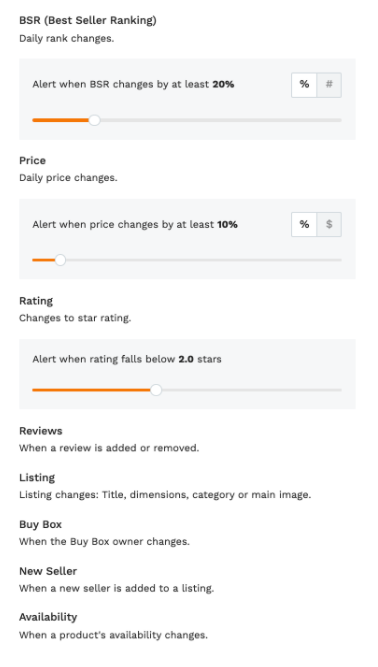 You can set a custom tracking alert on your and your competitors' products so you can compare and smartly make changes in certain thresholds.
Promotions
Jungle Scout Promotions is an innovative deed to help novice Amazon Sellers. Here, you can promote directly on Jungle Scout to boost your early sales. You can set multiple promotional campaigns to get an audience and reviews.
You can promote your products through coupons, seasonal sales, offers, etc. You can use the promotion abuse feature so you can save your inventory from coupon abusers.
Jungle Scout Academy
Jungle Scout Academy is an actionable and comprehensive training program for Amazon sellers. This is an exclusive learning hub where you can learn from product research to handling your Amazon store. It includes 130+ videos covering all aspects of selling on Amazon.
Get access to strategic lessons from Jungle Scout's founder and CEO, Greg Mercer. Master your selling skills by watching bite-sized tutorials at your own pace. Attend live Q&A sessions led by Amazon experts and get your problems solved live.
Free Tools :
FBA Calculator
The FBA Calculator is a handy tool for any type of Amazon Seller. The tool figures out the exact fees you will need to run an FBA business with a particular product. The calculator estimates all the possible aspects you might have to pay while running your business—including order handling, picking, packaging, shipping, storage, etc.
Sales Estimator
The Sales Estimator tools provide the most accurate sales estimation algorithm for Amazon sellers. You can choose a particular category and marketplace for a product to get sales estimates every month.
Jungle Scout Extensions
Like other popular platforms, Jungle Scout also offers a browser extension to narrow down your research on Amazon. You can simply browse Amazon with the extension and get valuable insights and data directly from the Amazon page. Jungle Scout supports two browsers, Chrome and Firefox, for their extensions. You can directly install the extension from the official Jungle Scout page.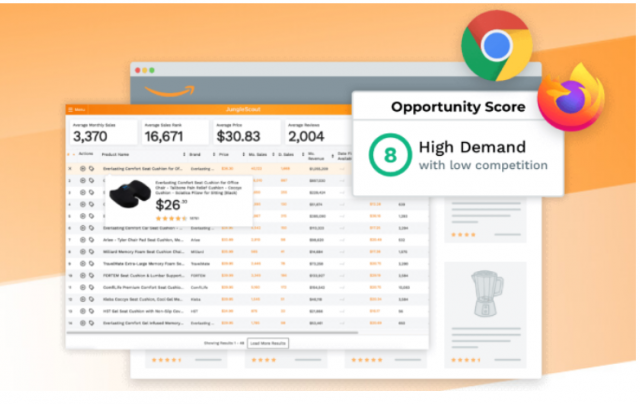 Here's what extensions offer:
Product ideas
Insightful data on the product page
Key product insights
Opportunity score
Sales overview
How to use Jungle Scout?
Jungle Scout offers many premium tools for Amazon sellers. But you don't necessarily need all of them at once to sell on Amazon. You will need three crucial tools to start selling from very basic:
Product Research
Supplier Database
Keyword Research
Let's see how you can use just three tools to start your Amazon store.
Step 1. Use the Product Research tools to find a suitable product related to your niche.
Step 2. Use the Supplier Database feature to find a reliable supplier to source your product within your marketplace.
Step 3. Once you find a product and supplier, you use the Keyword Research tool to get proper keywords for your product listing. Create a product listing, and you are good to launch your store on Amazon.
You can use other tools as well once you start your online store on Amazon. Use the Jungle Scout browser extension to ease up the process of using all the tools.
Jungle Scout Pricing Plans
Jungle Scout offers a variable pricing model for Amazon sellers. You can either purchase standard plans on a monthly/yearly basis or purchase package plans for more exclusive offers. Let's have a look at the detailed pricing plans.
Standard Plans
Basic – $49/month or $349/year
The Basic plan is best suited for beginners. You will get a single-user license and full access to browser extension to validate product ideas.
Suite – $69/month or $589/year
If you're keen to find new product ideas, the Suite plan is the best option. You will get access to tools to manage your Amazon business, including the Basic plan features. You will get a single-user license, but you can add more users at additional charges if you need more.
Professional – $129/month or $999/year
The Professional plan is the ultimate solution for growing businesses and experienced sellers. You will get access to more data, six user licenses, and all the Jungle Scout features.
Package Plans
Startup Suite – $189 for 3 months
This plan is ideal for sellers who desire to up and run their business as soon as possible. With this plan, you'll get:
1 user access
90 days of product tracking data
1 year of keyword research data
Access to Jungle Scout Academy
Weekly live Q&A
Priority onboarding
Entrepreneur Suite – $349 for 6 months
This bundle plan is ideal for sellers who want to learn deep knowledge about selling on Amazon. This plan is the same as Startup Suite but with extended access for six months.
Freedom Builder Bootcamp – $999 for 12 months
If you want to master the entire FBA process, the FBB bundle plan is the best option available. With this plan, you will get:
All the Suite bundle features
Live coaching sessions
1-year premium subscription to Jungle Scout Professional plan
Bonus content, updates, and resources
Priority customer support
If you're a new Jungle Scout user, you can check out our discount coupons for Package plans to get an exclusive 60% discount.
Jungle Scout Alternatives
You can find many FBA seller tools on the internet that you can use as an alternative to Jungle Scout. But features and tools will not be the same as Jungle Scout. However, Helium 10 and Viral Launch are the two best alternatives available to Jungle Scout.
Helium 10
Helium 10 is one of the most potent and reliable tool-suite for Amazon sellers. It offers 25+ premium tools that cover each aspect of selling on Amazon. Helium 10 offers some unique proprietary tools that you won't find on Jungle Scout.
Viral Launch
Viral Launch is another popular tool suite after Jungle Scout and Helium 10. It offers access to millions of Amazon data points, sophisticated algorithms, historical sales numbers, real-time analytics, and many others.
Customer Reviews and Testimonials
As the most popular platform, Jungle Scout got appreciative customer reviews from all over the world. Jungle Scout got a rating of 4.7 out of 5 from Trustpilot. It got more than 2800+ genuine customer reviews on Trustpilot.
Jungle Scout Pros & Cons
Pros
User-friendly UI and UX
Powerful AI-driven technology
Validate products after product research
Huge supplier database
Listing management capabilities
Accurate data analysis via graphs
Access to 20+ premium and free tools
Cons
No free trial
Expensive monthly pricing models
No mobile application
Why Choose Jungle Scout?
As an Amazon seller, you will need more than just a product, supplier, and keywords. It might take hundreds of hours of manual research and physical attempts to find the relevant data for your Amazon store. But with the help of Jungle Scout's features and tools, you can eliminate all the guesswork and manual efforts.
You can access all the tools from the Jungle Scout dashboard to find the data points and metrics that will help you make changes in your product listings, prices, descriptions, images, and many more. Jungle Scout's Chrome and Firefox extensions are cherries on top. You can easily install the extension to use most of the Jungle Scout tools while browsing the Amazon product page.
Final Verdict: Jungle Scout Review (2023)
Finally, you have reached the final verdict of the Jungle Scout. I hope I have covered most of the valuable insights of this incredible platform. Jungle Scout is one of the most trusted platforms by Amazon sellers, and for a good reason. I have used other platforms as well, but none of them can match the efficiency and accuracy of Jungle Scout.
Unfortunately, there isn't any free trial available for Jungle Scout. However, you can purchase any paid plan and try all the features for an instant. If you're not satisfied with their services and tools, you can cancel your subscription within seven days of the purchase. You will get a 100% refund with no questions asked. So, why wait. Try the Jungle Scout tools and scale your business to the fullest.
Frequently Asked Questions:
Can I try Jungle Scout for free?
Jungle Scout is not offering any kind of free trial for now, but they offer 7 days of the money-back guarantee. So you can try this tool for seven days and claim your full refund.
How much discount do I get on Jungle Scout? 
You can get a 55% discount on all its annual plans, it also offers a package plan where you can save up to $1500 on the purchase of the Freedom Builder Bootcamp plan.
What is the marketplace supported by the Jungle Scout?
Jungle Scout fully supports the UK, Canada, Spain, France, Italy, and Mexico. It also supports US marketplace with limited features.
What online payment Jungle Scout accepts? 
If you subscribe to Jungle Scout then you need to make payments through American Express, Mastercard, and Visa. If you don't have a credit card you can contact its customer support team and they will send you a PayPal invoice.